Traqnology, a Danish company with a big goal to revolutionalize the turf care industry.
Welcome to Traqnology, innovators in the world of advanced GPS solutions. We specialize in developing precision-based, user-friendly GPS solutions for sports facilities and golf courses, focusing on both natural and artificial turfs. Our systems are crafted to simplify sophisticated technology, ensuring seamless day-to-day operations in grass mowing, line marking, and more. Merging extensive GPS knowledge with insights from the green industry, we tailor our services to meet the diverse needs of various sports areas and asphalt surface marking. Experience the revolution in precision and reliability with Traqnology!
The future of line marking with GPS autosteer
Sportstraq is a game change with the field of Line Marking and Turfcare.
Uncompromised quality and adaptability in our hardware solutions
We purchase all our hardware components from major Western suppliers, selecting only high-quality components.
In our firm belief, there are just as significant differences in GPS and auto-steering technologies as there are between a compact Dacia car and a luxury Mercedes. Generally, our hardware components are well-known brands also used in Agriculture and Construction, thus built for somewhat harsh environments and thoroughly tested by thousands of daily users across most of the world.
Our solutions are generally IP 67 certified or better, ensuring that the components can withstand being outdoors in any weather.
We strive to create our solutions so that they can be built upon what has been purchased at the customer, always focusing on maximizing ROI.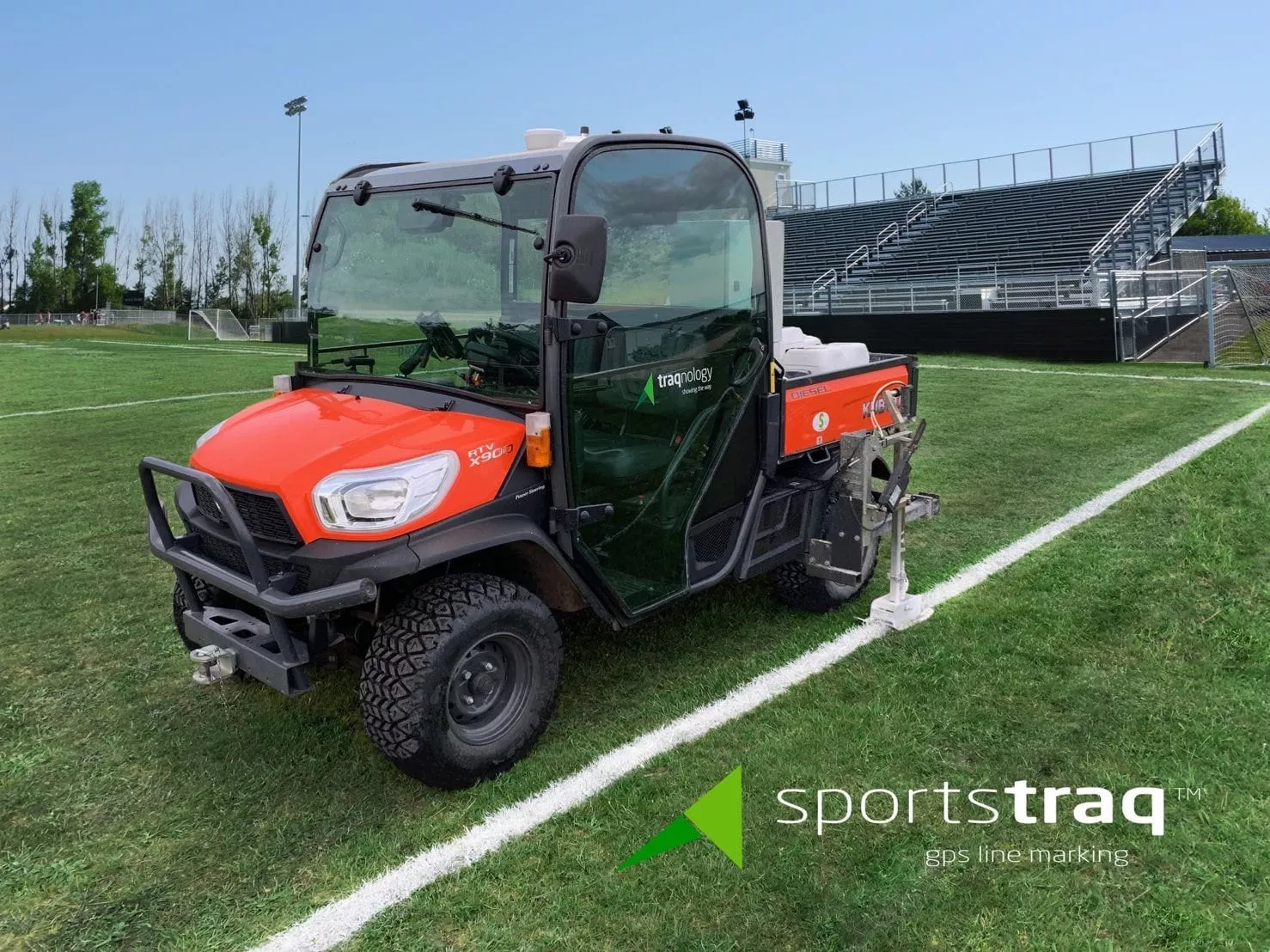 Did you know…?
Traqnology holds a patent for creating UEFA mowing patterns, allowing for precision-aligned designs to the goal area, penalty area, and center line on any soccer field. This innovative technology enables the crafting of varied patterns like checkered, diamond, and circle with utmost ease and accuracy. It not only provides a unique visual appeal to the sports fields but also opens avenues for distinctive branding opportunities through GPS autosteer mowing patterns.
Background
In 2015 I watched a line marking robot work at a Gardening and Landscaping exhibition in Denmark. That same year, I was asked to fit a GPS solution to a gator to get straight lines and remove the need for a surveyor.
Although I was fascinated by the idea that a robot could handle the line marking on its own, I was concerned about some practical challenges: The robot needs a person present for refilling, charging and moving around between fields. The robot's speed was not impressive, and the work efficiency of a gator driven by a person was three times faster. I decided to try and optimize the solution using a UTV and modifying well-known farming GPS hardware with an iPad interface and software dedicated to line marking, turf and landscape. In this way, the solution would be functional all year round. It could move much faster and be mounted on another vehicle in just a few minutes. We increased the work efficiency in line marking by three times over one week. This made the ROI much higher.
One of my contacts in Denmark tested this prototype, and the results and feedback were promising. We designed a solution that could be applied to many different tasks; cutting grass, line marking of sports fields, winter trimming, snow clearing, cleaning up paths, cutting fences and hedges and many other similar tasks.
After one year of testing and optimizing the user interface for people, who are not experienced in using iPads, and applying a GPS system designed specifically for line marking, turf and landscaping, we established Traqnology in 2018. That year we launched our first GPS-based line marking solution, Sportstraq. In 2019 we introduced the solution in the Scandinavian markets. We made our first international dealer contracts in the UK and USA for the Traqnology solution.
Founder/Director Traqnology
Claus Bjerre